ESD Trays & Totes for Dell
Location
Dublin Ireland
Project Type
Custom Moulding
Tricel solution
ESD (Electro Static Dissipation) trays and totes manufactured for Dell by Tricel
Request a quote for your project today!
Dell is a global provider of IT Solutions
Dell was created in 1984 in the United States and has grown to become a global provider of IT solutions and services. The company customer base is varied, ranging from small private individuals to large multi-nationals. Dell's portfolio focuses on providing end-to-end IT solutions to all its customers.
ESD (Electro Static Dissipation) trays for the production process
ESD trays are ideal to carry and transport electronic components, such as those for computers, due to controlled resistivity properties. As a leading manufacturer of delicate electronics equipment, Dell's factories required these ESD trays and totes to convey and store electronic parts during the production process safely. These specialised products ensure protection for computer components while they during transportation on the conveyor belts of assembly lines. For these reasons, ESD trays and totes play a highly important part in the production process.
What is Electro Static Dissipation (ESD)
Electro Static Dissipation takes place when a sudden flow of electricity occurs between two independent electrically charged objects. One of these objects becomes negatively charged, while the other becomes positively charged. The static electricity created can be the result of electrostatic induction (when nearby charges influence the redistribution of electrical charge in an object) or tribocharging (a material becomes electrically charged after frictional contact with another material).
In most cases, ESD can damage magnetic media and destroy sensitive electronic parts. For this reason, static dissipative trays and totes are crucial in order for Dell to store and transport computer parts safely while on the assembly line.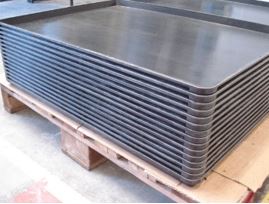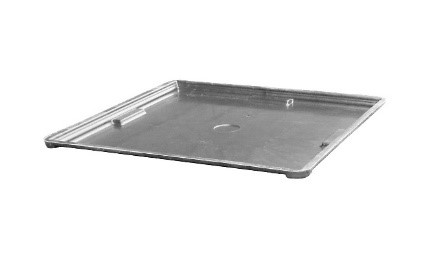 ESD Tray ideal for their resistivity properties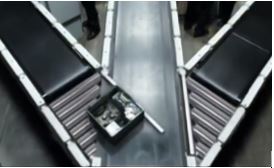 SMC Enclosure protecting the Sabre Equipment
Product design as per size and specifications.
Sourcing raw material to meet the client's requirements and testing of the dissipative criteria.
Mould design and development to suit mass production.
Preparation for production and quality check cycle.
Employees and operators training.
Manufacturing and strict quality control checks of the finished
Call our technical sales team today!
This joint project with Dell has been a real success, thanks to Tricel's industry expertise and dedication. All trays and totes manufactured are inspected individually for quality, and Dell was extremely pleased with the results. We have been producing a range of ESD trays and totes ever since and ship to Dell facilities all across the globe.
If you are looking for ESD products or enclosures, contact us today and speak with one of our technical experts who are standing by to discuss your requirements.
Get in touch to discuss your project.
Get a bespoke quote today
SMC
A strong, durable and lightweight material
Expertise
A professional team with extensive experience
Cost-effective
Economical solutions for numerous products
Tricel (Gloucester) Limited.
Fox House, Stonedale Road, Stonehouse, Gloucester, GL10 3SA, United Kingdom.
Tel: +44 (0)1453 791 616