Tricel is highly established in the manufacturing and supply of a wide range of electrical and gas meter boxes and kiosks in both Ireland and the United Kingdom. With over 40 years' experience within the industry, our entire range is produced to the highest standards. The Glass Reinforced Polymer (GRP) construct of these items make them extremely hard wearing, weather resistant, and durable.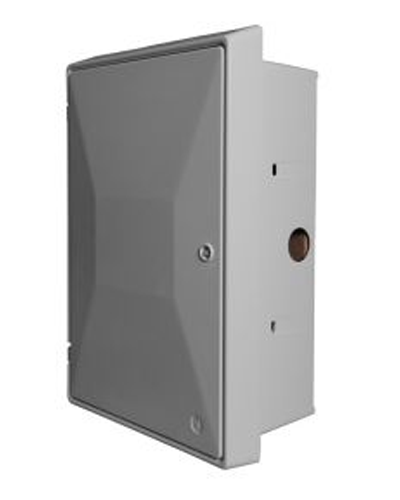 We are a well-established supplier of a vast range of kiosks, and both gas and electric meter boxes enclosures. With over 40 years of industry experience, our products are developed and manufactured to the highest standard. All units are constructed using Glass Reinforced Polymer (GRP). It makes them weather resistant and extremely hard wearing.
These products are used throughout industry sectors to house electrical, gas and cable meters. This material is produced in-house by the company in both the Irish and UK facilities. All products are manufactured to local authority standards. They are in use by many of the leading industry organisations such as ESB and Bord Gais in Ireland, as well as many companies in the UK like:
British Gas
Scottish and Southern Energy
Electricity Northwest
Western Power Distribution
National Grid
ELECTRIC AND GAS METER BOXES
First, Tricel produces a range of weatherproof enclosures. They are ideal for housing equipment and components of a sensitive nature. Such products are an ideal choice for utility companies and are designed for both pole and wall mounting, making them a common choice for the housing of street lighting equipment. Furthermore, we also offer a range of see-through door coverings which allows for the monitoring and reading of more sensitive equipment while keeping such units in a sealed and protected environment. Such applications are used for more unique and sensitive items.
Our range of products are highly versatile and have been developed and perfected over many years in the industry. Within this period Tricel has become an expert in all aspects of the production and development of both materials and products within this area. Indeed, this is a range of skills we bring to each and every element of the manufacturing process.
We also offer custom moulded solutions for our clientele using our advanced manufacturing and design facilities which can be employed to solve a unique business needs. To conclude, if you have any enquiries or queries regarding our product range or the development of a product specific to your needs, please do not hesitate to contact our sales team.
Our online store offers a variety of distinct units and replacement parts which are applicable to most current models, and which are compatible with older models. All our offerings have a variety of available technical data which can be viewed online.